Vivian Hua is a daughter of Hephaestus, notoriously known for disliking PDA.[1]
Appearance
Edit
Short black shoulder-length-ish hair, very dark brown eyes, tanned, 5 feet tall.
Personality
Edit
Happy, smart, overprotective, hyper, slightly paranoid, impulsive, and impatient. She makes "the best friend, but the worst enemy."
Her mother moved to the USA to attend Stanford University and is an electrical engineer. Vivian's father disappeared shortly after she was born. When she was 12 years old, their rental car on a trip to New York was attacked by hellhounds. Her friend, a satyr, escorted her to Camp Half-Blood, where she is now a summer camper. She takes gymnastics, piano, and art during the school year.
Abilities & Items
Edit
Abilities:
Edit
Technokinesis, or an innate head for machines and computers.
Pyrokinesis, or the ability to create and manipulate fire.
3D Maneuver Gear with one side removed to make room for her bottomless pouch.
Two steel knife hilts with Celestial Bronze, Imperial Gold, steel, silver, and Stygian Iron blades in them.
Another set in the 3DMG
Extra hilts in her bag, but the extra hilts can only hold one blade at a time.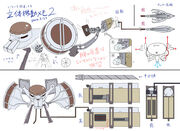 Strengths & Weaknesses
Edit
Strengths
Edit
Good at building things
Can summon fire
Good at thinking up crazy ideas to get you out of a fix
Weaknesses
Edit
Overprotective
Hyper
Slightly paranoid
Impulsive
Impatient
Likes & Dislikes
Edit
Metalworking
Reading Greek fiction
Food
Math
Gymnastics
Drawing
Manga/anime
Dislikes
Edit
Rude people
Excessive use of profanity
Much too revealing clothes
Waiting for people
PDA
She was created by PiNerd of the Hephaestus Cabin on April 20th 2014, and accepted the April 21st 2014 by Sunny.
References
Edit
↑ Vivian's Biography,via Demigod Creator, post 8.